In my previous post, I discussed how I prepped for my semi-annual salon visit, and I mentioned that I would share the name of the new-to-me salon that I would be visiting. Well, yesterday I visited the salon and received services there, and it went swimmingly! Below I share length check photos from the visit, review the salon and their services, share the products the stylist used, and discuss ideas for tweaks to my hair care regimen given what I learned is going on with my hair.
Length Check and Trim
My previous length check was December of 2017. Below are the photos from it. The photo on the left is BEFORE the trim. The photo on the right is AFTER the trim. My hair — including split ends — reached the line marker 9.5 at its longest point. It was cut back to the line marker 8.5. This means that about 1 inch was cut. (Shout out again to my Dad for making me a length check shirt. Too sweet!!! ❤ )
Below are the photos from my most recent length check done on yesterday, May 17, 2018. The photo on the left is BEFORE the trim. The photo on the right is AFTER the trim. My hair — including split ends — just barely reached line marker 11 at its longest point. It was cut back to line marker 9.5. This means that about 1.5 inches were cut.
Below are the December 2017 and May 2018 post-trim photos side by side. The 2017 photo is on the left, and the 2018 photo is on the right.
Thus, my yet-trimmed hair went from line marker 9.5 in 2017 to line marker 11 in 2018 at its longest points. My trimmed hair went from line marker 8.5 in 2017 to line marker 9.5 in 2018. This means that my hair split more this time around. It means that I retained 1 inch of healthy hair in 5 months. That's 0.5 inches of growth per month, and 1/5 an inch of healthy hair retained per month.
On average, people's hair grows about 0.5 inches per month. At that growth rate, my hair would have grown 2.5 inches from December to May. My hair grew 2.5 inches, and 1.5 inches of that hair was split and thus removed. As I'll discuss below, my stylist has some ideas about how I can reduce the extent of my split ends. I have some additional ideas and hope to combine all or most of them. 🙂
About the Salon Visit
The salon I visited is called Her Growing Hands Salon (please click the salon name to learn more). Salon owner Whitney Eaddy prides herself on helping clients grow their natural hair long. My appointment was with Rudi, and she handled my hair so gently, it almost brought tears to my eyes. Rah, rah, rah!!! 😀
The drive to the salon was super far for me. Over an hour. I enjoyed the drive: I listened to Sirius radio on the way (I'm grateful to God for the blessing that is Sirius radio), and the music rotation was lit. DJ was on point. Among other goodies, I got:
Ludacris's "Stand Up"
Destiny Child's "No, No, No"
Missy Elliot's "Get Your Freak On"
and
After car dancing the whole drive, I arrived at the salon 10 minutes early and was greeted instantly and kindly. I was offered water, which I gladly accepted (Texas heat was NOT playing). As I detailed in my previous post, I had planned on arriving with a new wash and go that would show my stylist how I typically wear my hair and what the typical length of my curly hair is, but the wash and go was a big fail. That morning I ended up detangling the failed wash and go with Shea Moisture High Porosity Moisture Correct Masque, twisting it up, and donning my black slap cap.
Products the Stylist Used
Rudi washed my hair LOOSE with the Generic Value Products brand's Tea Tree Oil Shampoo (available from Sally's). She then applied Bioterra Anti-frizz Intense Smoothing Conditioner to my strands and sat me under the steamer. My hair was very hydrated and soft thereafter, and Rudi then proceeded to detangle my hair with a denman brush. There was very, very little hair in the brush when she was done detangling.
To blow dry and flat iron my hair, Rudi used Generic Value Products (GVP) brand's Leave-in Treatment with Keratin and Beyond the Zone's Protein Cocktail. She also used GVP Silk Remedy (available from Sally's). While blow drying my hair, my hair tangled quite a bit, due to my split ends. This did not throw Rudi off in the least. She put down the blow dryer and gently used her fingers to pull the knots and tangles apart. Let me reiterate: She did not simply continue to yank the dryer through my dry hair. She painstakingly, patiently finger de-knotted my dried tangles strand by strand. I have a ton of stands on my head, you guys. This took a long while. She was so patient and utterly unbothered and chill during the whole process. I could have cried, you guys!!!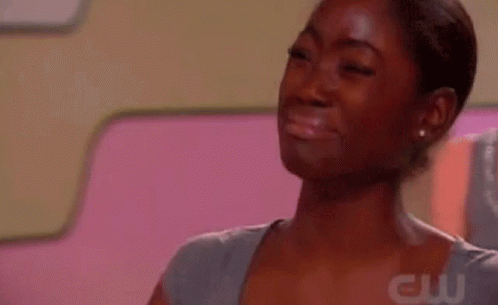 To flat iron, she did just ONE PASS, y'all! ONE!!! ONE!!!! Haleloooooooooo! 😛 I was elated. (Can you believe I forgot to ask her what temperature setting she was going to use?!?? Aargh. 😦 Oh, well.
She told me that I could email her any questions I had, so I might ask her. 🙂 )
Results and Review
I was completely satisfied with my visit and services. I was never ever worried about my hair for one second. Rudi handled my hair so gently throughout the entire process, like I would have at home. I was floored. 😯 Rudi was sociable, professional, fun, and talkative. I enjoyed talking hair with her (I hope I didn't drive her crazy with all my hair-related chatter. 😀 )
And I loved my results. I have gotten a ton of compliments. Here are photos. Most were taken the day after, once the Texas humidity had gotten ahold of my hair. You can, however, see the very sleek initial results in the first photo below.
If there is any issue I had with the experience, it would only be the pricing. This is the most expensive salon I've ever visited, and I think it prices out some folks. I, for instance, would not feel comfortable getting services from this salon more frequently than quarterly or trimester trims. Visiting that salon any more frequently would be a significantly higher expense over another very good salon I've visited — so much so that I wouldn't feel like a good financial steward visiting the salon frequently. I think stylists should charge what they feel they are worth, so I'm not mad, LOL. However, I probably would have agreed to come to the salon every six weeks were the prices different.
What I Learned about My Hair from the Salon
Rudi asked me good questions about my hair care practices, and she had recommendations based on my answers and based on the state of my hair. She recommends that I:
stop shampooing once every week or two and try to stretch it to once a month
cowash if I feel I need to cleanse between shampooing
use no coconut oil in my regimen, because she believes it blocks out water
use a denman brush to detangle
get a trim 4 times a year instead of just twice a year (she said I could stretch it to three times a year but that she really recommends 4 times a year)
She shared the salon's preferred products for the two main ways that I style my curly hair — (1) twist out's and (2) wash and go's.
NOTE: PLEASE CLICK THE PRODUCT NAMES IN BLUE TO LEARN MORE ABOUT THEM. 🙂
For wash and go's:
Liquid
Oil (the salon uses the salon owner's hair growth oil)
For twist outs:
When done on blow dried hair:
When done on wet hair (I believe this is what Rudi said she'd use, but I'm not sure):
About the Split Ends
The main thing I learned from my visit was that I want to reduce the extent that my ends split. Rudi advised that trimming 4 times a year would address the issue. I don't mind trying that trim schedule for a year, but I know quite a few naturals with very long hair that trim only once or twice a year and are fine. I guess my question is this: What's the difference between trimming 1.5 inches every 6 months and trimming half as much every 3 months? Is the argument that trimming more frequently will result in LESS HAIR SPLITTING and THUS LESS HAIR NEEDING TO BE TRIMMED?
In other words, are people saying that if I wait to trim every 6 months, then I'll have to trim my typical 1.5 inches each time. But in contrast, if I trim ever three months, I will need to trim LESS than 0.75 inches (half that) each time? If that's true, then it makes sense to me to pay to get a trim more often. Otherwise . . . 🙂
I'll go ahead and test this. 🙂 This means my next trim should be around August 17, 2018. *thumbs up* Cool. 🙂 In the meanwhile, I'm considering doing the following things to try to reduce my split ends. Of course, if these tactics do work and in three months I don't have as much split ends to trim, then folks will say it's because I trimmed in 3 months instead of in 6 months, and not because of my other tactics. Oh, well. 😛
To try to reduce split ends, I'm thinking of trying:
purchasing and using The Mane Choice Anti-Breakage & Repair Antidote Split-End Treatment (the reviews at Sally's website are serious!)
using my KareCo Tangle Buster Brush only once a month and finger detangling all other times
shampooing only once a month and using a cowash all other times

Instead of shampoo, I'm thinking about trialing:

wearing my hair stretched via

flexirod sets, and/or
ponytail perm rod sets, and/or
extra wide and long curlformer sets (I'd have to purchase these).

protective styling via a upart curly wig
protective styling via diy natural hair clip ins.
Summary/Conclusions
I absolutely loved my experience at the salon, and I love my results. I am definitely glad I went and am ever so grateful to have had a wholly positive experience. 😀 I plan to try the products the salon uses for a wash and go. I'm TICKLED that they use a gel AND foam method when I just, JUST tried that for the first time the other day. VIBING! 😀
My hair is now at length check line marker 9.5. That's an after-trim retention of 1 inch over 5 months (factoring in a trim of 1.5 inches of split ends). I did not like the extent of my split ends, and I'm hoping to improve my retention of healthy hair over the next 6 months. Toward that end, I will certainly be purchasing and using The Mane Choice Split-End Treatment (I just can't ignore the Sally's reviews); I'm going to try VERY hard to use my brush and shampoo only once a month; and I'm thinking about wearing my hair stretched most of the time via setting (I love the results below, if not the method):
I also like the results below:
Lastly, I want to see if I can retain more than 0.75 inches of healthy hair over the next three months, because that MIGHT mean that trimming more frequently actually results in less hair needing to be trimmed. (On the other hand, it could mean that the cause is shampooing less frequently, using The Mane Choice Split-End Treatment, and/or keeping my hair stretched. If I'm doing several of these things at once, there'll be no way to know the precise reason for any reduction in split ends.)
Comments? Thoughts? Tips? Product Recommendations?
Do you have any retention tips (besides protective styling that involves tucking and rolling or wearing fake installed hair — I just can't do that right now. Not into it.)? Have you been to Her Growing Hands Salon? If so, what were your impressions? Have you been to an amazing salon that you would recommend wholeheartedly? If so, what's the name of it and where is it . . . and what did you like about it? Do you rock at doing stretched styles on your hair? Do those styles aid in your retention? What are your tips for mastering your preferred stretched styles, and do you have a great tutorial you want to share with blog readers?
Please feel free to add your comments, thoughts, tips, and/or product recommendations in the comments. I'd love to hear from you, and as always, thanks for reading and many blessings to you and yours!